2016 NHLA Fall Conference and Business Meeting Nov. 3
TEACHING TECH
9:00 Coffee and Registration
9:30 Awards and Recognitions
10:00 Jessamyn West: Solve the Digital Divide with One Neat Trick! Teaching technology in an age of rapid prototyping and social media.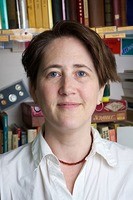 Skills-based technology education is a good first step. However, creating these "digital natives" we've all heard so much about requires a new approach to thinking about learning. Jessamyn West draws on her twenty years of technology instruction to discuss how problem solving and systems thinking can improve outcomes and build confidence once the point and click basics are in place. West also discussed what we can do about the people who can't help themselves across the digital divide.
Jessamyn West is a librarian and community technologist. She helps run the Internet Archive's Open Library project and writes a column for Computers in Libraries magazine. She works with small libraries and businesses in Central Vermont to help them use technology to solve problems.
11:30 Sam Lucius and Sara Vale: Up to Code? Why computer science programs in libraries.
Why do we care? It should be so much more than technology for technology sake. Computer science programs are a tool to help feed the values and missions that are already at the heart of what libraries today do.
Sam Lucius is a Children's Librarian at Wiggin Memorial Library in Stratham, NH. In this position she manages collection development for the children's department, plans programs for school age kids, and serves as the site sponsor for the library's Girls Who Code club.
Sara Vale is a Computer Science Engineer by training having worked on designing and developing mobile communication networks in her early career. She has most recently worked on web Apps and usability. She is also an avid educator and a STEM coach with 8+ years of training students to take on national level robotics, math & programming competitions. She co-founded the New Hampshire 'Girls Who Code' chapter in 2015-16 school year.
12:30 Lunch
1:15 Business Meeting: Jenn Hosking, NHLA President
2:00 Lightning round presentations:
Jennifer Harris: Teaching Makerspace Technology to Support Student Success

Emerging Technology and Systems Librarian, Assistant Professor, Southern New Hampshire University, Shapiro Library

Sylvie Brikiatis and Karen Frey: Teen Tech Mentoring

Sylvie Brikiatis, MLS, Assistant Director-Operations/ Young Adult Librarian, Nesmith Library, Windham
Karen Frey, Circulation Supervisor/Volunteer Coordinator, Nesmith Library, Windham

Jessica Drouin: MOOCs: adding to the inexhaustible access to information I crave and cheerlead

Technical services employee, Derry Public Library

Lara Croft: Audio-recording speakers onto MP3 for checkout to patrons

Library Director, Langdon Public Library, Newington

Kate Thomas: Sharing Technology Training

MLS, Information Technology Librarian, Hampstead Public Library

Kate Butler: Tech Success: Involving staff and patrons in library website architecture

Technology Librarian, Rodgers Memorial Library, Hudson

Susan Brown: Teaching tech to staff

Assistant Director, Derry Public Library

Melody Fulone and Sandy Whipple: One Minute Videos

Melody Fulone, Library Assistant Adult Services, Goffstown Public Library
Sandy Whipple, Adult Services Outreach Coordinator, Goffstown Public Library
3:30 Raffle with Cookies and Coffee for the Road
More details
Hooksett Public Library, 31 Mt. St. Mary's Way, Hooksett NH 03106
Carpooling is strongly encouraged. Everyone who arrives in a car with two or more people will be entered in the carpool raffle which will be drawn at the business meeting.
Members $20. Non-members $30. Register by October 21, 2016
Questions to Marilyn Borgendale, NHLA Vice President, mborg@gmilcs.org, 603.485.4286
---